New clear: Debeer 8-814 Fast Drying With Zero Compromises
Fast-drying clear that dries in just 10 minutes
DeBeer 8-814 Fast Performance Clear is a new fast-drying clear that dries in just 10 minutes at 60˚C. It's a user-friendly clear that can be applied in one visit delivering a high gloss final result.
Unlike other fast-drying clears, it can be used for small and medium-sized fast repairs as well as up to 5 panels, complete front end or complete side, with zero compromises on the finish quality.
Its wide application window allows body shops to increase spray booth throughput, helping to improve the repair process while significantly reducing energy consumption and saving time, resources, and materials.
The product is user-friendly and comes with a dedicated hardener, which is mixed at a simple 2:1 mixing ratio.
See TDS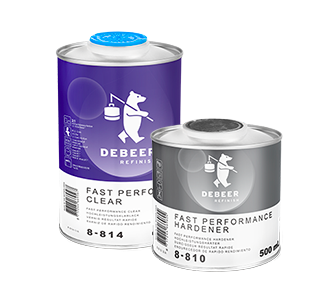 78 In stock
DeBeer Refinish - 5 L
8-814 Fast Performance Clear
D8-814/5
Mængde begrænset - varen udgår
26 In stock
DeBeer Refinish - 2,50 L
8-810 Fast Performance Hardener
D8-810/2,5
Mængde begrænset - varen udgår