Macrofan Green-Tech Filler
Filling as always, faster than ever!
Macrofan Green-Tech Filler is a two-component, ultra-fast drying High-Solids Acrylic Primer with a high filling capacity, suitable for use in all vehicle repair jobs, thanks to its modularity and flexibility of use.
The reference to the Green-TI Filler Primer is evident, and indeed the two products are very similar in terms of filling and sanding capacity (for which the historic Lechler Primer is renowned). Macrofan Green-Tech Filler, however, offers the end-user much more! Thanks to its formulation characteristics and to its modularity, it significantly reduces work times, both in terms of application and drying, in particular at room temperature, which is the most typical condition for this type of product.
Its technological characteristics make it suitable both for standard processes, using the MULTIPROGRAM universal hardeners, and for high-efficiency IR-Tech, Power-Tech and Air-Tech processes (in the latter two cases, resorting to a specific hardener and additive).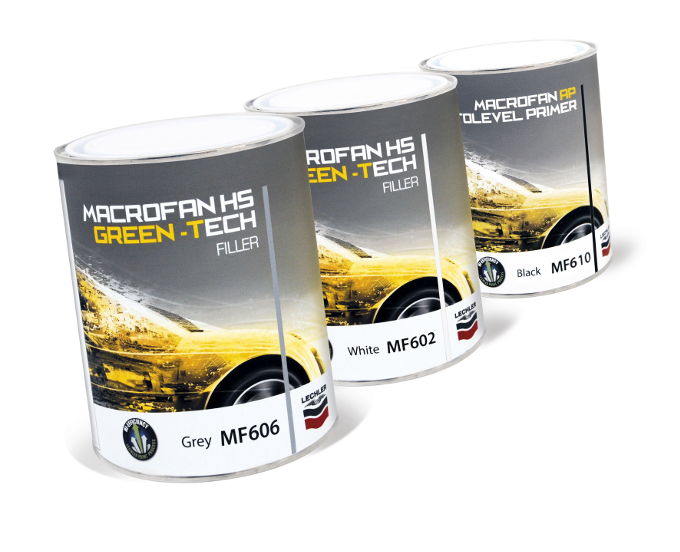 Impact of Energy Costs
Given its flexibility of use, Macrofan Green-Tech Filler can be applied in the traditional manner and in consecutive hands ("One-Step" cycle), and with all drying technologies (air, oven and IR).
In summary, below are the benefits of the new primer:
Given its air drying performance, it enables quick, safe repairs, even in more "critical" circumstances.


Given the reduced oven-drying time, it generates significant energy savings, making this drying method more affordable also during the first stage of the process.


Given the lower processing times, both in terms of application and drying, it increases productivity and reduces the impact of labour costs on individual repairs.
See more
"YOUR BEST PRACTICE EVOLVING"
The new product is fully in line with Lechler's mission for its Refinish products in recent years
To offer products and systems that enable them to achieve maximum efficiency, with an eye on both results and economy
The aim is to raise the level of productivity at the body shop through the use of simple, safe methods of operation