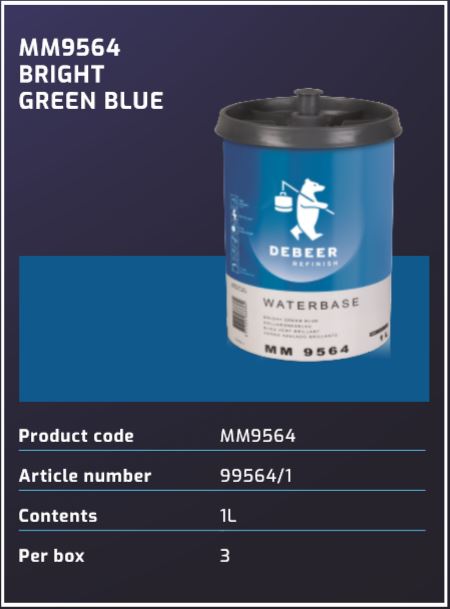 Tailor-made solution for a premium finish
DeBeer Refinish makes it easy for you to color-match perfectly to achieve OEM-standard repairs on both simple and complex surfaces. Bright Green Blue is a new, high-quality toner color that can be added to the DeBeer WaterBase 900+ series for even better color adaptability
Exact color
DeBeer Refinish understands the importance of getting an accurate color match right from the start. DeBeer is at the forefront for some of the most advanced color technologies available, to ensure you can get a perfect match as quickly and accurately as possible. This new blue toner is a solution that allows you to deliver OEM-standard paint repairs.
Wider range of colors
The introduction of the light green-blue toner expands the range of blue color choices and improves matching for several kinds of blue finishes. The new toner also enables matching for other colors that require this shade of blue in formulation, thus ensuring excellent results that many customers will appreciate.
How to access Metallic Bright Green Blue
Make sure your ICRIS software is up to date. The new color formulations with the new light green-blue tones are available with the latest update.
Follow the instructions below to update your ICRIS software.
FIND THE NEW TONER COLOR HERE