Car paint and products that create value in car painting
We offer the industry's best paints for cars and vehicles, as well as the most complete non-paint range. We have more than 20 years of experience and offer know-how, data sheets and the right products, so that you can achieve a perfect finish every time. We are very familiar with the requirements and products in car painting and the car aftermarket, and we want to make sure that you have an easy job of it when working with surface treatment. 
This means that we offer a wide range of auto paint, spray paint, other paints, tools and non-paint products. We are resellers for a number of leading brands in the industry, such as 3M, RUPES, Lechler Refinish, DeBeer Refinish, Cromax, Chicago Pneumatic, Norton, Farecla and many more. You can find all our products in our web shop, including everything from putty, car paint, clearcoats, fillers, primers, tape and cover. In fact, we have everything you need for car painting, bodywork and plastic repair. 
DeBeer Refinish – Discover the difference
DeBeer's range comprises a complete lacquer solution that allows all manner of workshops to work productively, regardless of the ability of the surroundings. 
The compact and versatile design makes DeBeer the perfect choice for workshops looking for quality and simplicity, combined with streamlined inventory management and knowledgeable customer support. DeBeer promises a unbeatable surface treatment, every time, from start to finish.
See more


Cromax – Accelerate productivity
Cromax is the world's fastest paint system. The system is designed for highly productive workshops where speed is the highest priority. Cromax offers the industry's best color matching and products with unparalleled speed of use, so you can minimize material consumption and significantly accelerate work processes.
See more
We want to make it easy for everyone who works professionally with car paint, and our goal is to exceed your expectations and ensure that as a customer, you are more than satisfied with our services and products. It doesn't matter whether you need just a single spray paint color, a spray gun or a complete mixing solution – we're here to help you. We've made it easy to shop with us. Because all our car paint products can be purchased online, you eliminate the boring task of ordering by phone. You can order whenever and wherever you want. Our web shop is open 24/7 and can be used on several different devices. 
As a professional auto paint dealer, we offer a variety of solutions to suit different needs. Whether you want affordable products, or you prefer a premium car paint brand to ensure optimal and increased workshop productivity, we have what you need. We sell car paints from reputable brands such as Lechler, DeBeer Refinish and Axalta Cromax. However, quality is not the only thing we take into account. We naturally focus on the car paint as a profitable aspect of your company. We're happy to contribute to optimizing your processes and making sure you have the right setup of car paint and accessories for your needs. 
At LAKGRUPPEN, you get so much more than a bucket of car paint. We have many years of experience and industry know-how, and we seek out the latest news directly from some of Europe's largest paint suppliers so we can pass on this knowledge to you. So when exciting color formulations and variants of car paint are introduced, which in one way or another can benefit your business, you can get them from us. We love our business and appreciate innovative products that can help you improve your business.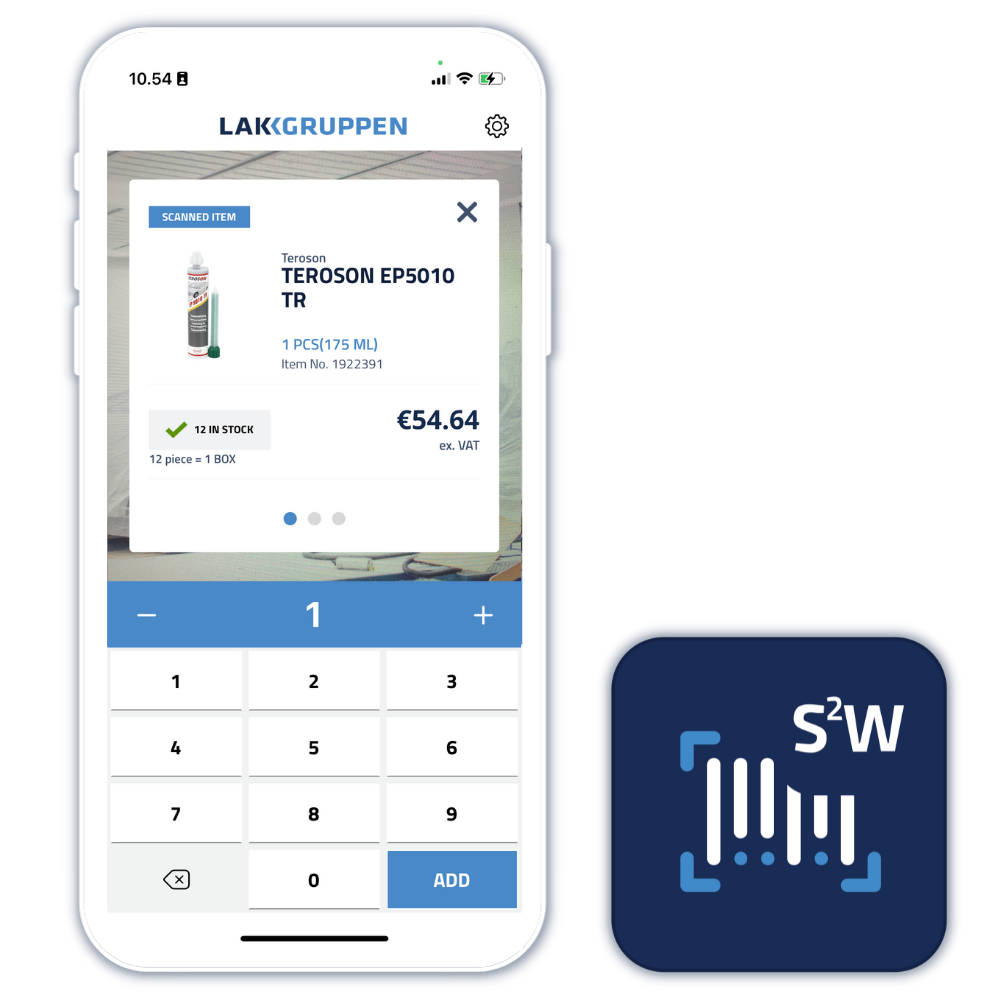 Ordering has never been easier
The Scan2Web app is built for speed, always ready to scan the next item. Should your desired item appear to be out of stock it is easy to swipe to see alternatives.
Read more
Want to learn more?
Whether you need product advice or want to discuss a mutually rewarding contract agreement, we're ready to talk to you.
Yes please – tell me more