Scan and order items from LAKGRUPPEN with Scan2Web
Scan2Web is an app built for LAKGRUPPEN customers who orders regularly, typically with many order lines, and who wants to speed up the ordering proces to save some time in a busy day.
The app lets you scan a LAKGRUPPEN barcode or QR code to get an instant match, choose your quantity and add to basket. You can complete the order right from within the app or later on any device, including the app.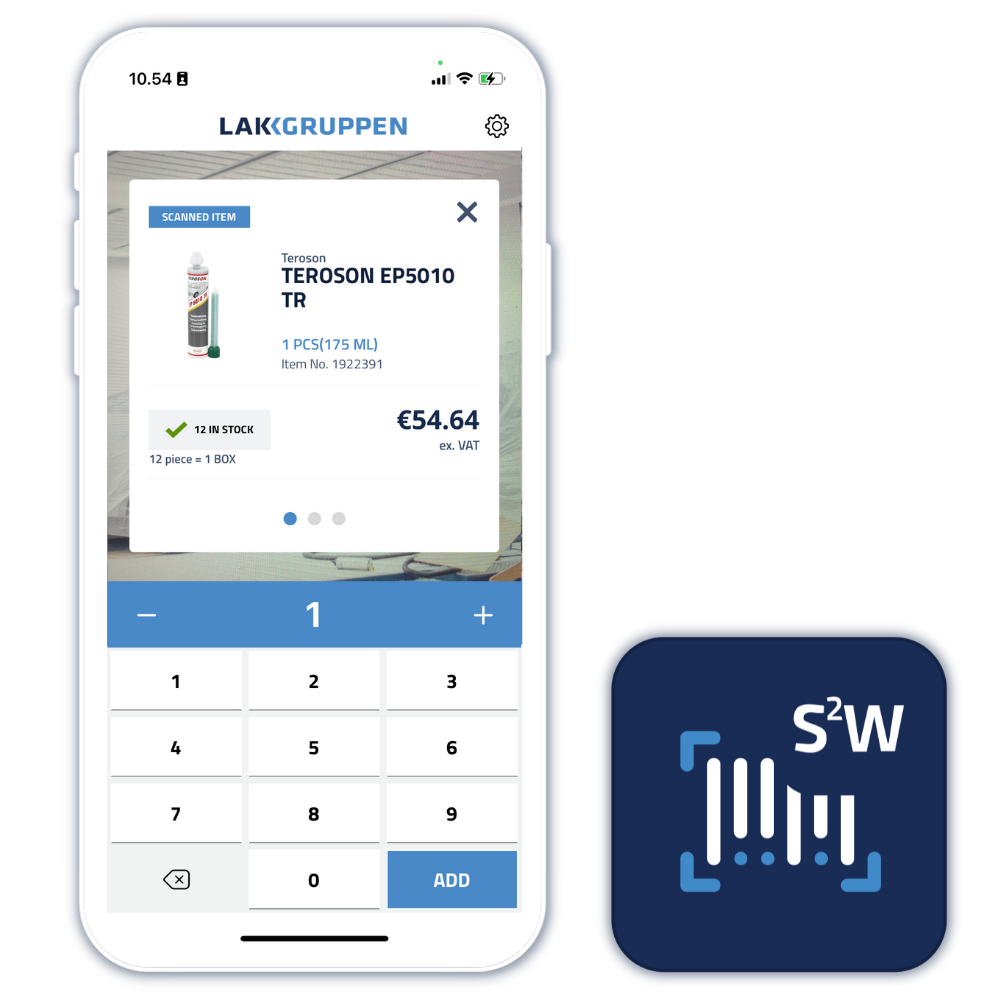 A simple guide to the Scan2Web app
Our new scanner app makes it easy for returning customers to order. The Scan2Web app is user-friendly and ensures a fast and easy ordering process every time. Here is the simple steps to get you started: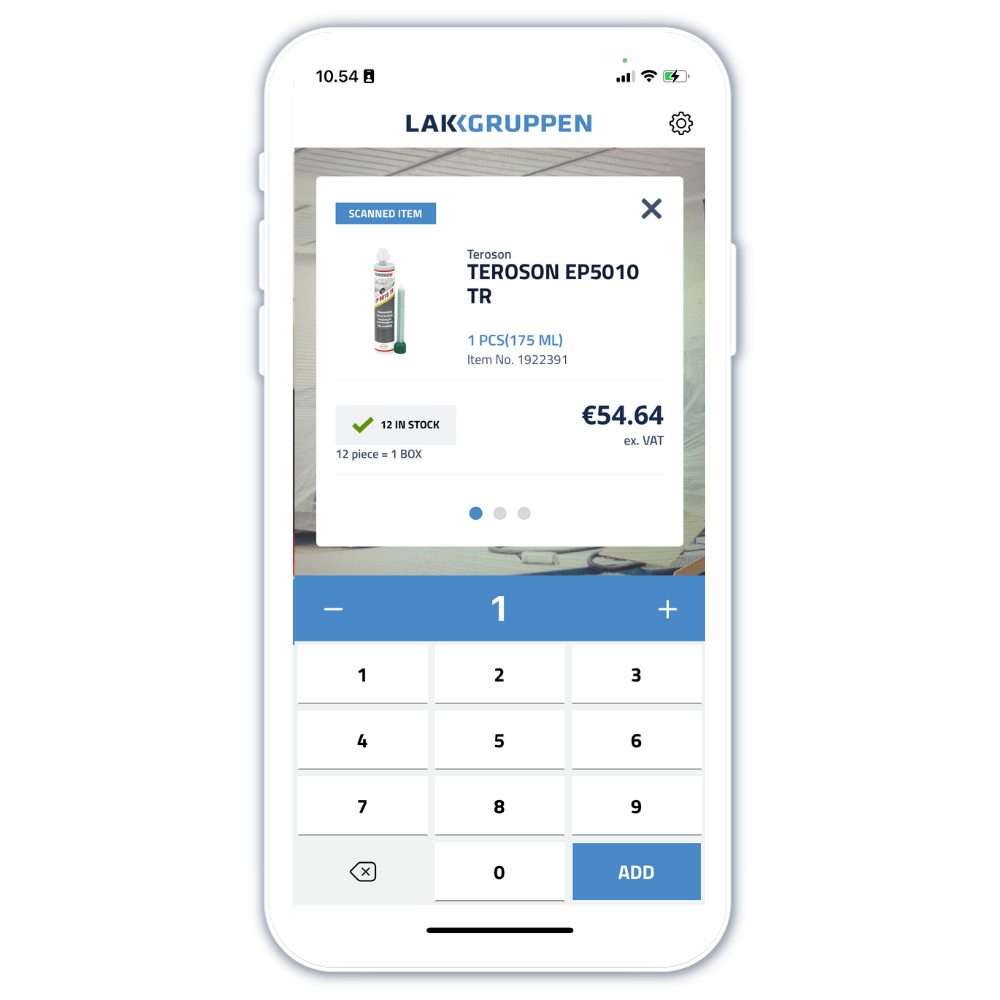 Scan a LAKGRUPPEN QR- or barcode 
In one simple step you can scan a LAKGRUPPEN QR code or barcode, related to the item you want to order, choose your quantity and add it to basket.
Whenever alternatives exist they are always presented together with the scanned item. In case your desired items is not in stock you can still order it but you can also consider an alternative. Just swipe to see alternatives.
Once you are done adding all your desired items to basket. You are ready to finish you order.
Complete your order
Directly from the scanner view you can go to basket to complete an order.
Items added to the basket is saved to your user account. This means you can come back to complete the order at any time - even from a different device through the Scan2Web app or online on our webshop. Perhaps you prefer to browse our shop to find a specific item at a later stage from your computer. Just login to see your basket and the items you added to it using the Scan2Web app.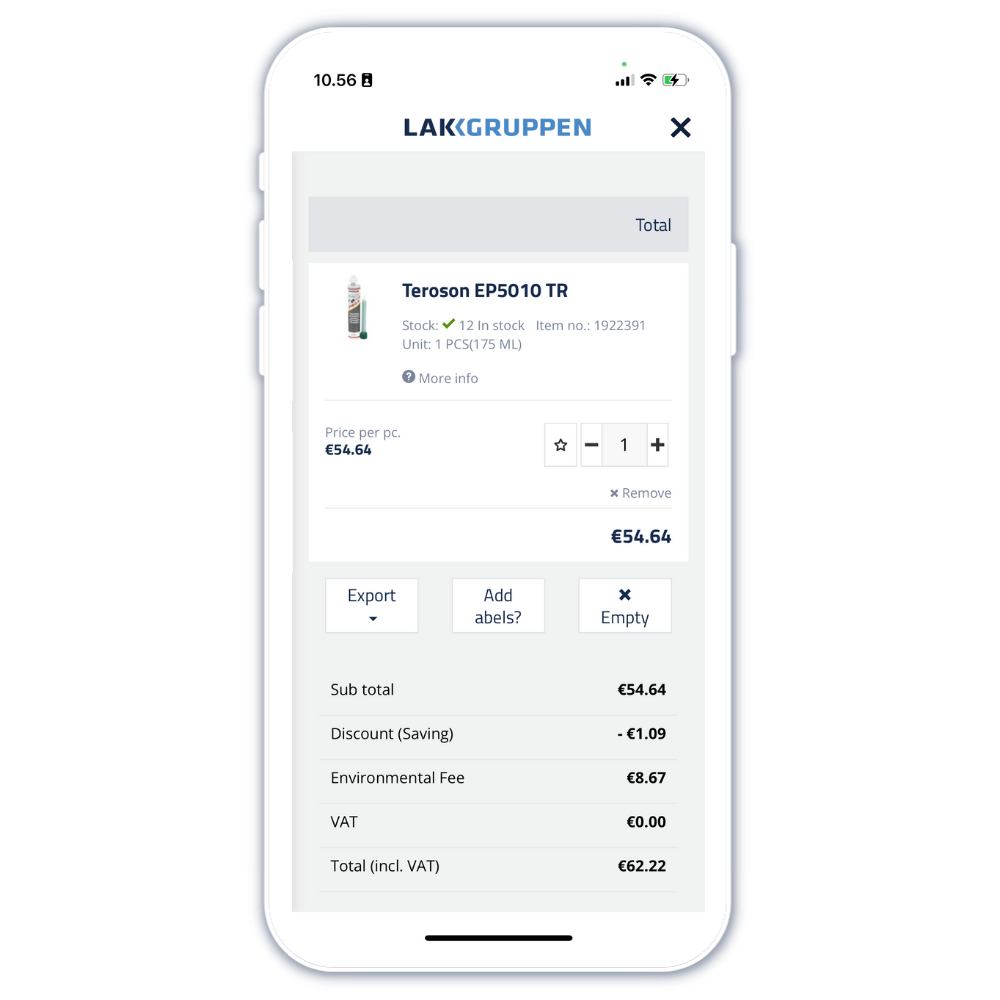 Supported Labels
The Scan2Web app can scan LAKGRUPPEN labels. It is recommended to set up labels matching products you frequently buy. Our Scan2Web app supports both QR code based labels, which is a new option launched together with the app, and barcode based labels from LAKGRUPPEN, which are also used in our older physical scanner based ordering solution. 
Scannable labels are easy to recognize. Just look for the LAKGRUPPEN branding on the label. 

QR based Labels
The QR based labels only works with the new Scan2Web app. QR codes are a bit faster to scan but the difference is hardly visible to the human eye. If you are not already using the physical scanner solution and have the barcode based labels on your shelf markers it is recommended to use the QR code format.
Barcode based labels
The barcode based labels are used with the version of Scan2Web involving a physical barcode scanner. The barcode based labels also works with the Scan2Web app. If you already use these labels its easy to switch to using the Scan2Web app instead of the physical barcode scanner. 
How to get labels
To take advantage of the app labels have to be set up. Luckily this proces is extremely easy and can be done within minutes. Here are 3 ways to getting started with labels and maintaining them. 
Printing labels on everything in your basket
When you want to get started just fill the basket with all the products you usually order. Then export the basket. Choose between QR labels or barcode labels. The function will generate one file containing all the labels for the products in your basket. Just hit print once to print all you labels on your label printer.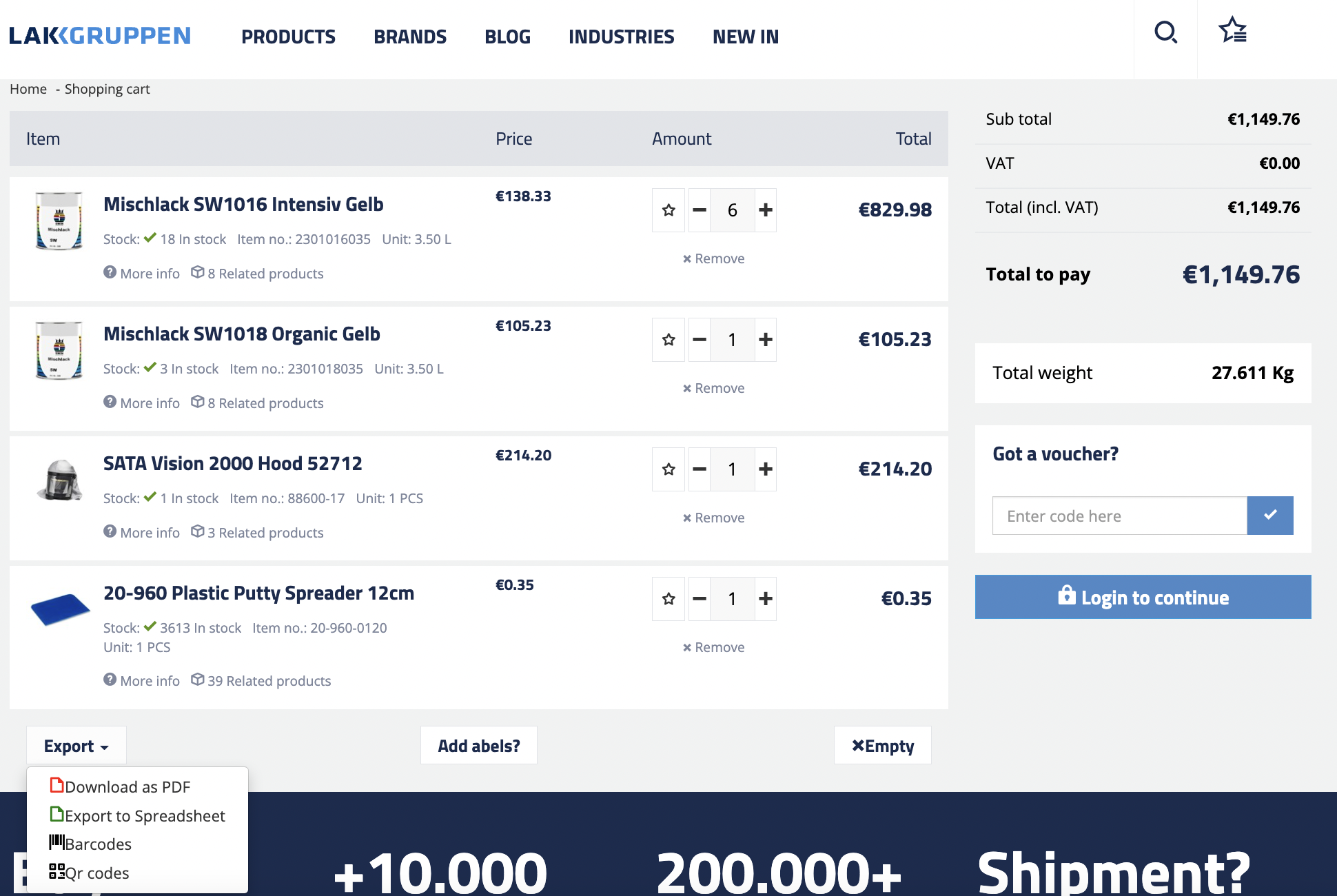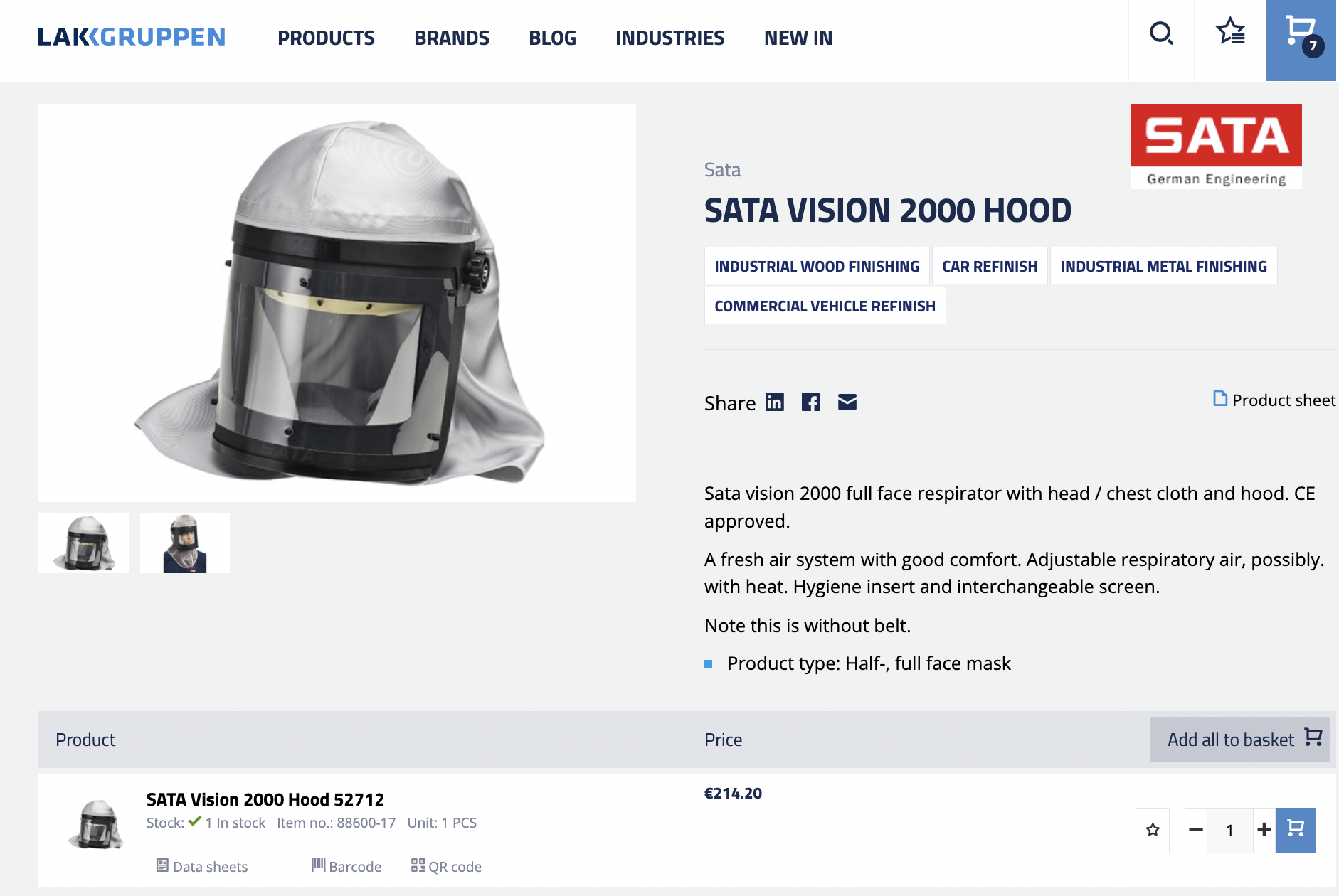 Retrieve individual labels on product pages
On every product page you can find labels to the specific product. Easy - especially if you are already set up with our labels but just want to add another product to your preferred stock products. 
Let us print the labels for you
Every time you order you have the option to add labels to the order. If you do so we will print the labels related to all the products on your order and ship them together with the products.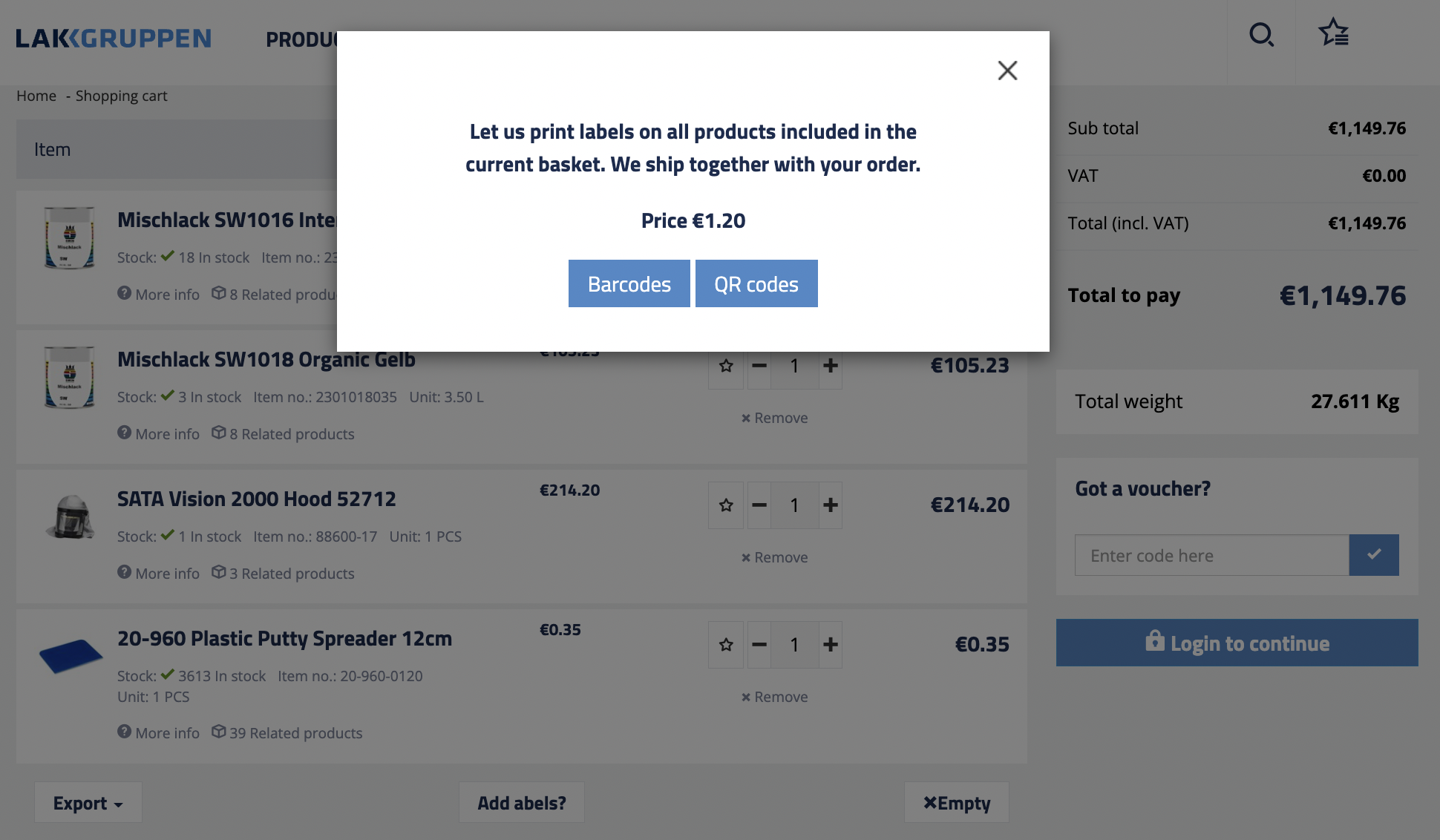 Ready to get started? Download the app now
Selected label printers in stock