What is the difference between RP and HVLP
What is HVLP and RP spray guns?
The spray gun is indispensable equipment when it comes to painting. There is a multitude of manufacturers, customizations, and adjustments. But what is the difference between RP and HVLP? and what effect does it have on the application?
Historically, there were first "conventional" spray guns. In order to reduce VOC emissions and create a better working environment, new trajectories were envisioned and the HVLP spray gun became the preferred choice. It was known that HVLP technology was not suitable for atomizing all kinds of materials, and RP technology saw the light of day. RP technology also achieves a transfer efficiency of 65%, simply at a higher pressure.
HVLP stands for "High Volume Low Pressure" and denotes an internationally recognized application method.
RP is a SATA acronym for "Reduced Pressure" which is optimized high-pressure spray guns that achieve a great finish and transfer efficiency of over 65%.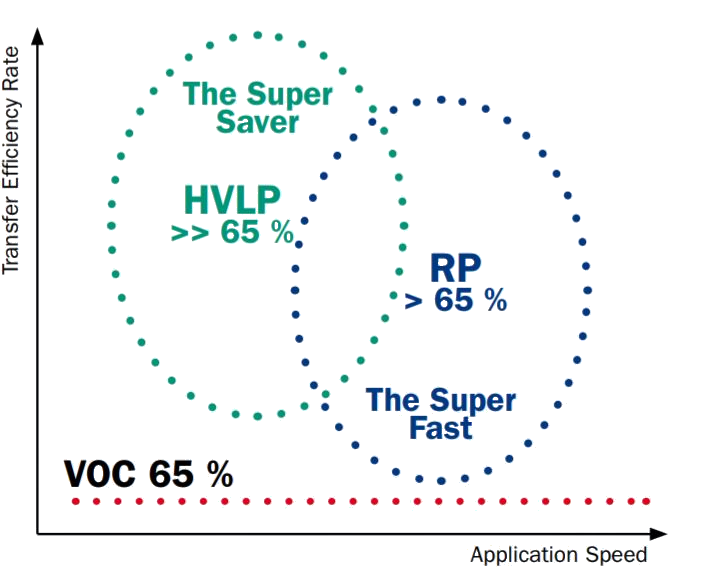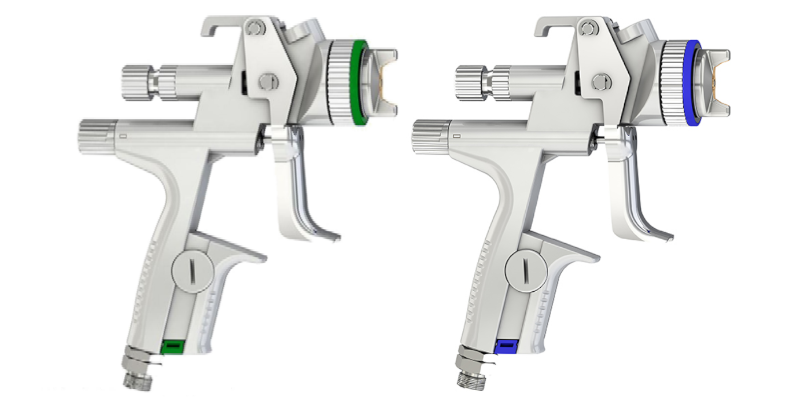 Spray gun for multiple purposes
If we take a comparison on the popular spray gun, the SATAjet 5000 from the German manufacturer SATA, which is known to set the standard or a very high one anyway. Then it can be roughly divided this way.
HVLP Spray guns or "The Super Saver"
Recommended for application of basecoat because it offers maximum transfer with minimal material consumption. HVLP is also suitable for water-based basecoats and provides a great spray of metallic colors. SATA HVLP spray guns can be recognized by the green ring on the air cover.
Slower application than RP
Higher air consumption
Good for basecoats
Good for water based paints
Good for spraying pearls
RP spray guns pr "The Super Speed"
Recommended for clear coat and 2K applications as the application rate is higher. SATA RP spray guns can be recognized by the blue ring on the air cover.
Faster application
Lower air consumption
Good for clear coat
Good for high solid
Good for polyurethane
Note! Replacing the nozzle does not change an RP to an HVLP or vice versa. However, SATA offers a 1.2W nozzle on the RP model, which is designed for use with water-based material.
We always recommend and refer to the instructions from manufacturers of paint system and the spray gun.
CHOICE OF TECHNOLOGY AND SPRAY GUN
Both versions are extremely versatile in application, meeting the expectations of excellent finish and satisfactory efficiency in material transfer. If only one gun had to be selected to be used for basecoats and clearcoat respectively, then 'RP' is a better choice. Because RP is generally a better all-round spray gun since the application is ultimately more versatile, lighter and faster.
When choosing a spray gun, the following aspects also have a major influence on the selection of the correct spray gun:
User working methods, desire and needs
The object
General recommendations of the paint system manufacturer (HVLP / RP and nozzle sizes)
Climate conditions
Available airflow from the compressor system
No matter which technology you choose - you can be sure that with SATA spray guns you get a quality product in your hand, whether it be in auto paint, large car paint or industrial component paint.

WANNA KNOW MORE?
We hope that the above gave you a better insight into RP / HLVP versions within SATA. If you are still in doubt - please do not hesitate to contact us on +45 6315 6666.
Then we will be happy to help you find out what you need!
Explore SATA