Introduction to Q-Refinish Putty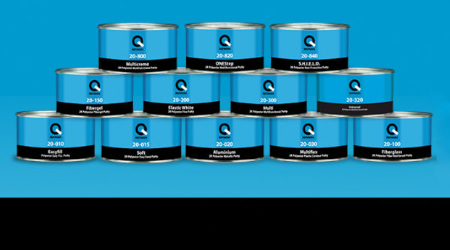 Puttys for cars
Q-Refinish offers high-quality lacquer and non-paint products for use in surface treatment and painting. Here at LAKGRUPPEN, you can buy Q-Refinish products – suitable for professional craftsmen and others who want high-quality products that have been thoroughly developed and tested. And they are all available at a very advantageous price.
In the Q-Refinish range you will find a wide selection of putties. Putty is an essential product for creating smooth surfaces or generally improving a surface. We have putties for a variety of surfaces, so you can always choose the best putty for your needs and that offers effective, smooth surface results.
Here are some of our quality putties from Q-Refinish.
20-030 Multiflex Putty
Highly elastic, multifunctional putty, specially designed for applications on plastic substrates, including polypropylene. Its thin consistency makes it ideal for filling small pinholes and scratches.
Can be used on: 
Steel
Galvanized zinc
Aluminum
Polyester surfaces
20 020 Aluminum Putty
Fine putty containing aluminum pigments. Ideal for applying a thin layer. Due to its thin consistency, this putty can be applied very smoothly, so a finishing layer is not needed.
Can be used on: 
20 820 OneStep Putty
Super-light, rich multifunctional putty with fiberglass content. Very creamy consistency that allows you to work in 2–4 mm layers and to use coarse-grain sanding products (P120 – P150). 
Can be used on: 
Steel
Galvanized zinc
Aluminum 
Fiberglass
This putty is specially designed for major repairs of very damaged surfaces.
20 300 Multi Putty
Multifunctional putty with a thixotropic effect. This putty can be applied to vertical surfaces in thicker layers and on large areas. 
Can be used on: 
Steel
Galvanized zinc
Aluminum
Fiberglass
20 016 Soft Putty
Soft Putty is a soft, lightweight 2K polyester putty.
It is characterized by a creamy consistency. This putty is easy to apply and shape, even on vertical surfaces. It offers intensive, homogeneous filling, which makes it very easy to sand.
Can be used on:
Iron
Steel 
Fiberglass
Galvanized zinc
20 100 Fiberglass Putty
Reinforced fiberglass putty that can be applied in a thicker layer. Suitable for reinforcing damaged surfaces. This putty has a high filling force; it is homogeneous and easy to sand.
Can be used on: 
See our selection of putties here