A paint system for wood, metal and plastic

SAYERLACK IS PERFECT FOR INDUSTRIAL PAINTING 
Sayerlack's range covers all your needs for surface treatment, and is also simply designed so that we can create exactly the solution you need.
The system consists of a set of colored pastes, hardeners and thinners, and several different basecoats / binders. So you're covered, regardless of the surface. Sayerlack Wood is specially developed for varnishing wood in the furniture industry.
Sayerlack also offers products for coating plastic and metal, where an easy-to-use DTM system is used for industrial surfaces such as aluminum, stainless steel, steel, composites and plastics. 
In the Sayerlack system, you can mix the same colored pastes for use on wood, metal or plastic. You get a system that offers efficiency, flexibility and quality!
Learn more about Sayerlack
COLOR SEARCH IS DIGITAL
With the innovative blending app, Paletto, you get an easy, digital color search function, and the opportunity to find the recipes you need within the Sayerlack color system.
The app makes it easy for you to reproduce a color for a returning customer, even if you've mixed according to highly specialized needs.
In the app, you can also create your own recipes when creating a color together with a customer. 
Mix all NCS and RAL colors, plus Sayerlack's own WC colors
Save lists for frequently used colors
Create your own colors
See your mixing history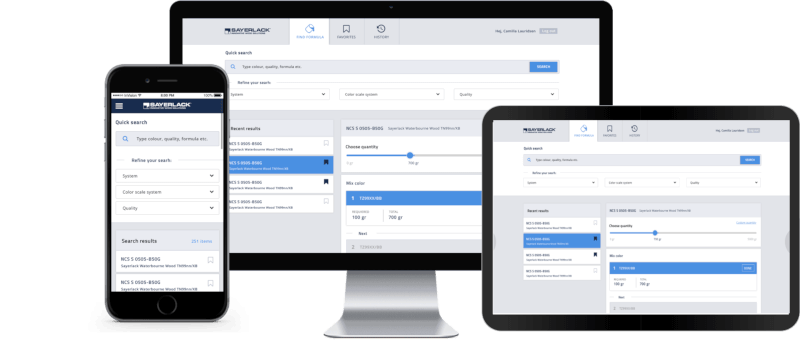 LAKGRUPPEN AND SAYERLACK
We've been cooperating with Sayerlack since 2011, based on the company's high level of quality and innovative product development. Their focus is on research, development of new technology and improvement of production – and this has made Sayerlack one of Europe's leading manufacturers of industrial paints.
Sayerlack has been around since 1954, and in 2010 became part of Sherwin-Williams, the global market leader in the manufacture, development, distribution and sale of surface treatments and related products for professionals, industry and retail customers. 
See our Sayerlack range
Let's have a chat
Whether you need to discuss non-paint products, want information about our partnership, or are interested in a dialogue about your project, we have the competence to help.