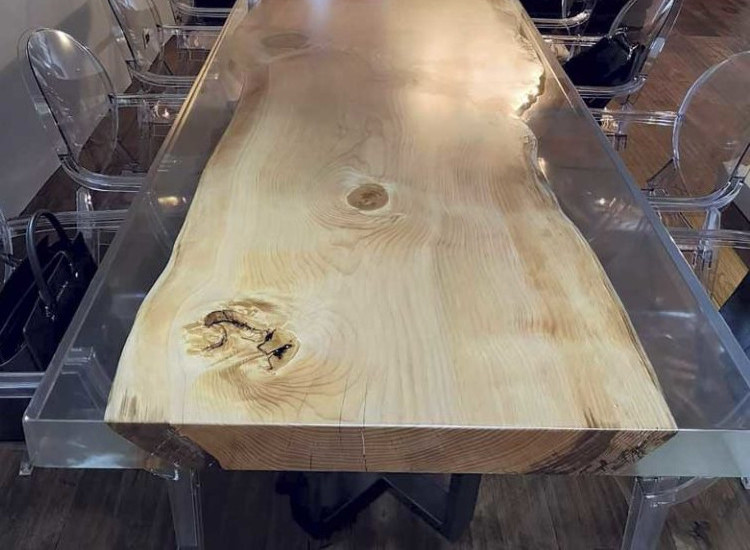 What is epoxy resin?
A plastic-like, two-component product that can be used on wood-plank tables for filling cracks and knots. Perhaps you've seen the combination of epoxy resin and wood before.
Treating the beautiful, natural structure of wood with a clear or pigmented epoxy resin lets you create a stunning and unique plank table or coffee table. Only your imagination sets the limit for how you combine the epoxy and wood.
Epoxy resin can be used for many purposes
We're so really happy to be able to offer this brand: new product, Liquid Lens QUL6283/00. It's a two-component, crystal-clear epoxy resin with high transparency, no shrinkage and a low degree of yellowing. Thanks to its versatility and good properties, this product can be used on both metal and wood surfaces.
If you need to fill holes or uneven spots in plank tables, or you want to incorporate objects under the resin surface, it's worth taking a closer look at the absolutely beautiful Italian epoxy resin from Sayerlack.
HOW TO USE EPOXY RESIN
Different methods can be used to apply epoxy resin. You can apply the resin using casting, rolling or with a brush. The choice of method depends on the subject, surface and the desired result.
Regardless of the method that you choose, certain conditions must be met. For example, the resin must be used in an environment with a minimum temperature of 15 °C. Applying resin at temperatures below this limit can result in surface imperfections and create bubbles that are difficult to remove.
In addition, the product should not be diluted with other solvents, but it should be thoroughly mixed by combining (A) Liquid Lens + (B) hardener, after weighing them according to the specified mixing ratio.
APPLICATION TIPS
The product is measured by weight and by correct mixing ratios.
Stir the product thoroughly for at least 3-5 minutes.
Do not use a mechanical stirrer.
Apply according to the optimal specifications for the product.
Avoid high humidity or cold ambient temperatures.
To ensure optimal bonding, the surface must be clean.
Image: Planke-bord.dk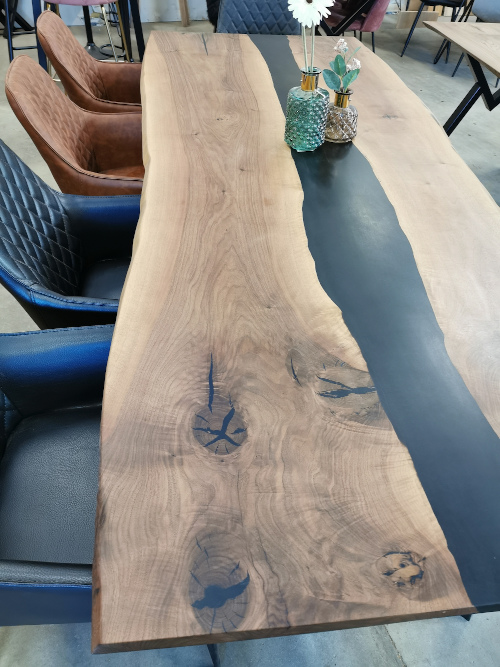 Add color!
Resin and hardener provide a crystal-clear epoxy, and by adding pigment, you can create a unique project. The only limit on the color and the product is your imagination.

Do you want more information? 
If you have questions or special requests, you're always welcome to contact us to learn more about how we can help you. Contact us if you need help