IR drying optimizes the work process
Infrared drying for auto and industry
Hedson is one of the leading suppliers of equipment for curing, lifting and extraction equipment for auto and industrial workshops worldwide. With more than 50 years of experience in the industry of auto paint and industrial paint equipment, you know you can expect very high-quality products.
Advanced and user-friendly technology
With the IRT System series, Hedson offers a wide range of shortwave infrared (IR) and ultraviolet (UVA) mobile dryers, and each model has its own area of application. The unique IRT FreeForm reflectors provide the best possible heat transfer. Shortwave IR is easy to control, provides instant full heat and penetrates deeply. The material cures inside and out, without retaining moisture, which would otherwise cause quality issues.
User friendly
Good mobility in the workshop
Short drying times
Large curing area
Even heat distribution
Gold-plated FreeForm reflectors
Reduced energy consumption
Environmentally friendly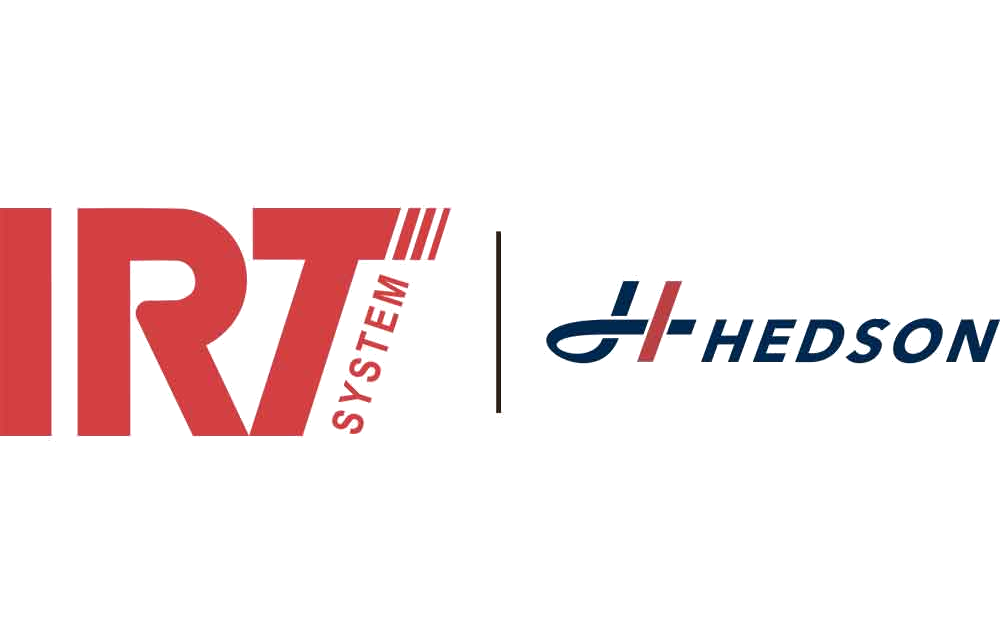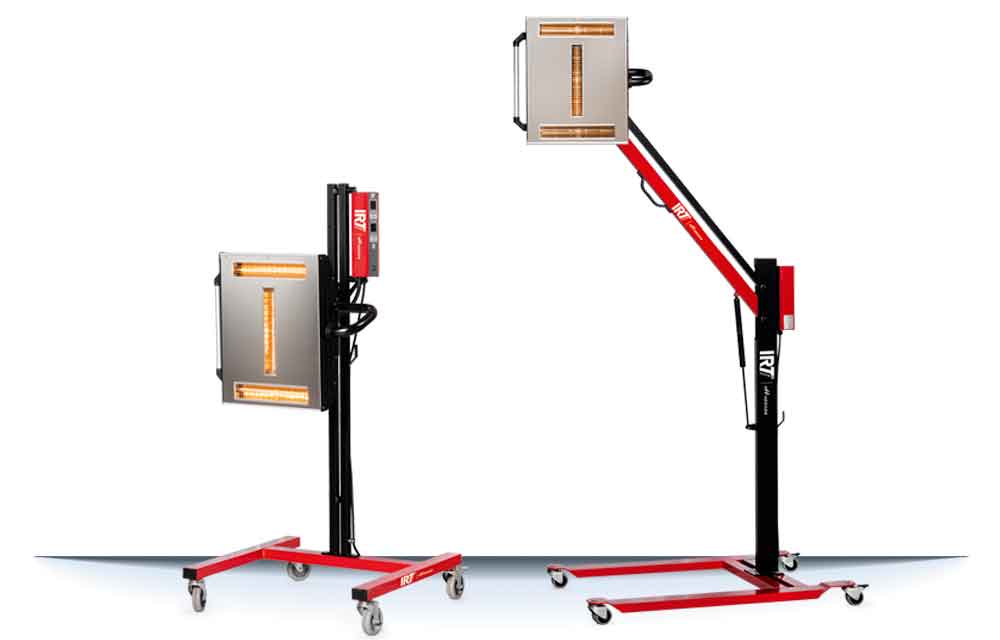 IRT 3 & 4 PREPCURE
Speed up the drying process of putty, fillers and clearcoat with IRT 3 PrepCure and IRT 4 PrepCure. The two digital timers and the settings are saved, even after interruption, making it even easier to use next time.
The lamp cassette is balanced and controlled by a gas-filled dimmer and is easily operated with one hand. With IRT 4 PrepCure, you can reach a height of 2150 mm, which allows you to cure the car roof without any issues.
IRT 3 and 4 are the smallest models from the IRT System, but are very efficient and absolutely perfect for curing small and medium-sized surfaces.
IRT 3-1 & 3-2 PCD
IRT standard drying lamps with process control for all types of workshops and paint materials. These drying lamps are suitable for all types of workshops. They are mainly used for small to medium-sized repairs and for primers, but have sufficient power to dry all kinds of paint materials.
IRT PcD dryers are equipped with a control unit for a computer-controlled drying process. The 12 presets and 3 custom programs, as well as the option of 18 different languages, make the equipment easy to use. 
IRT 3-1 PcD and IRT 3-2 PcD are equipped with one and two cassettes, respectively, each with three infrared lamps with gold-plated FreeForm reflectors and a strong ventilation that keeps the cassette cool and thus increases the life of the lamp.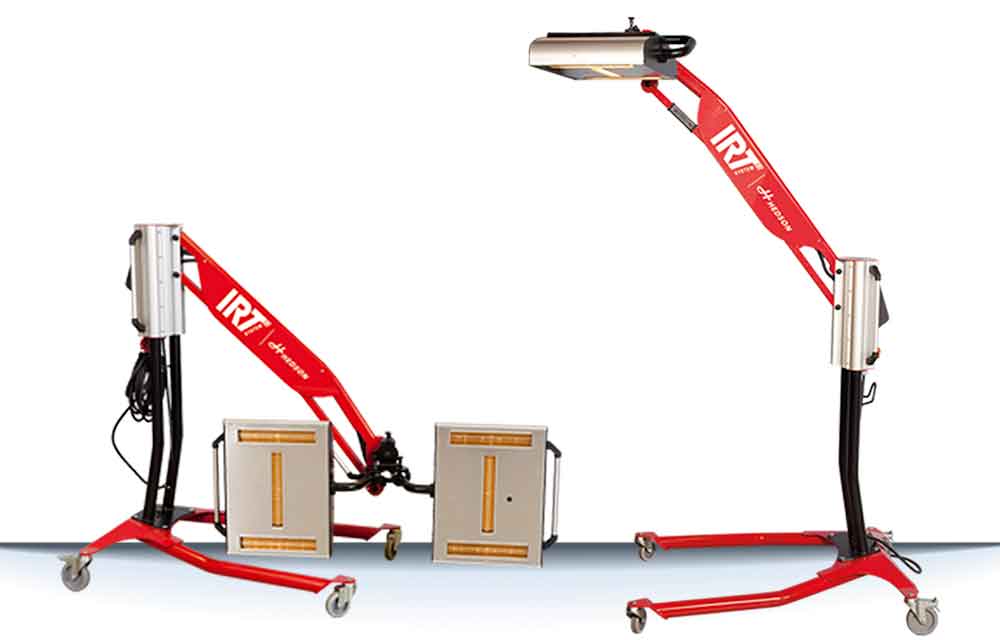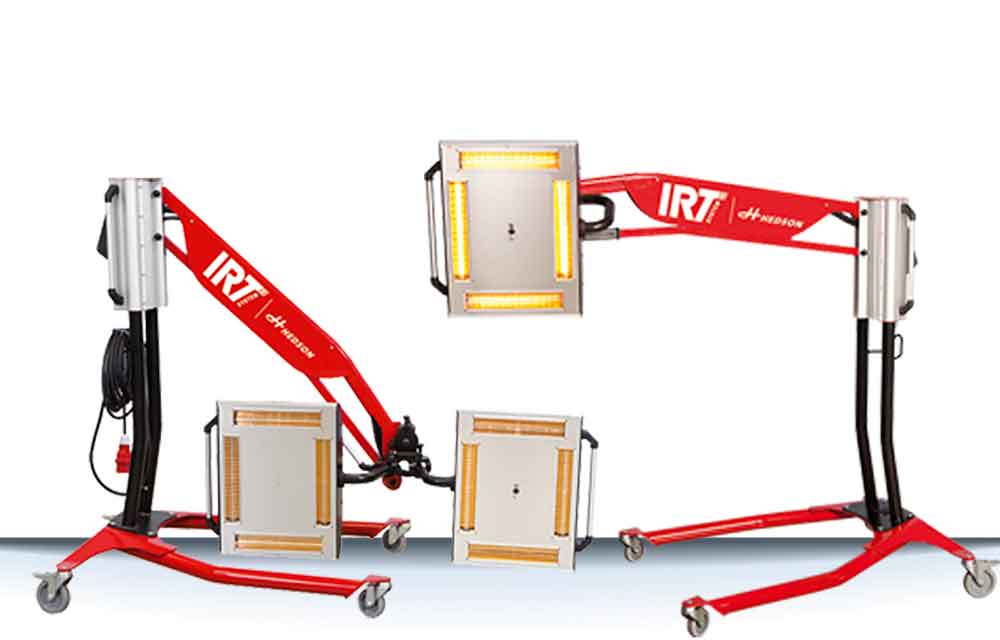 IRT 4-1 & 4-2 PCAUTO
The IRT PcAuto models are equipped with advanced technology, such as a temperature measurement, laser circle and digital distance sensor. With 18 different languages, the IR dryer can be easily set. The laser circle indicates where the temperature measurement takes place, and with the ultrasonic sensor, the distance to the workpiece is measured and signals when the distance is correct.
The temperature is measured continuously, while the microprocessor regulates the efficient output both up and down in a split second, with optimal results. As an operator, you can continuously monitor the drying process and receive information about e.g. temperature of the workpiece surface and the remaining program time.
IRT 4-1 PcAuto and IRT 4-2 PcAuto are part of the most complete mobile drying lamp series with the highest output and capacity. IRT PcAuto is easy to use, and compared to the other drying lamps, the reduction in drying time ensures an optimal and shorter drying process. 
Other posts you might like