The most popular car colors for 2019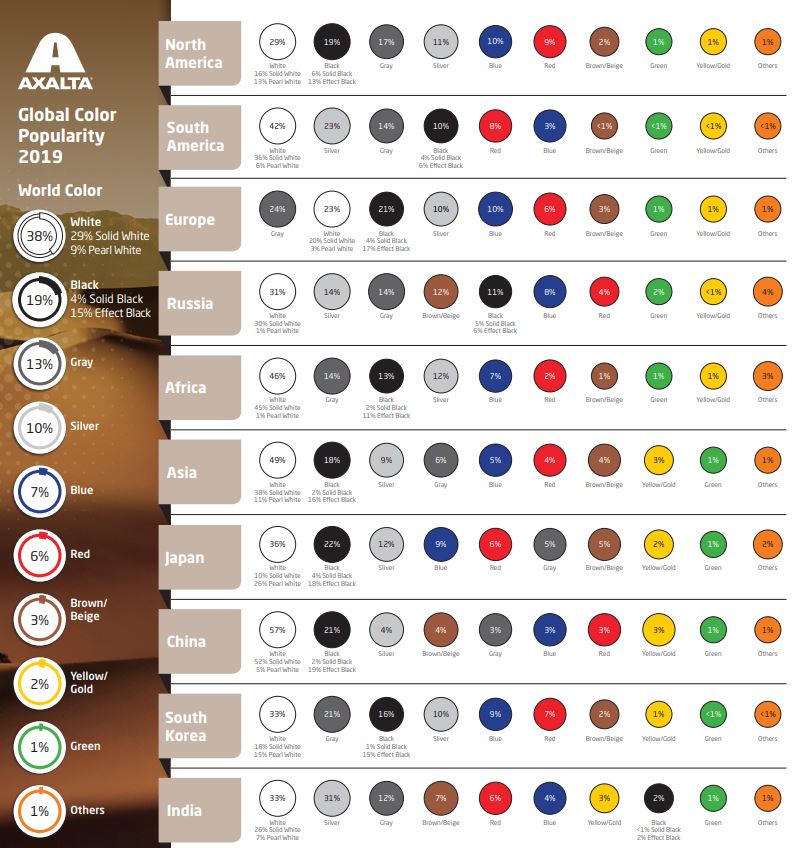 White, black and gray are still a hit
Axalta recently published its 67th annual Global Automotive Color Popularity Report, which reveals the most popular car colors worldwide. The top three look like this:
White (38 %)
Black (19 %)
Gray (13 %)
This year, as it has since 2011, white still dominates the market as the most popular car color worldwide. Worth noting is that silver has slipped from the top three most popular colors in the world, and with a reduction of 10 %, silver is at its lowest popularity level in more than a decade.
The study also shows that gray is gaining popularity in all regions of the world, and not surprisingly, the top four colors (white, black, gray, silver) continue to dominate and thus represent 80 % of the market share globally.
REGIONAL HIGHLIGHTS FROM THE 2019 REPORT:
Africa: lighter colors such as silver and white remain high on the list, at 58 % combined.
Asia: mother-of-pearl white is by far the most popular color in this region. 
Europe: gray is the most popular color and surpasses white.
North America: the popularity of blue increased by 2 %, and is up to a total of 10 %.
South America: this is the only region where silver is gaining popularity.
Russia: this region is unusual in that beige / brown come in at 12 % – more than any other region.